Healing Herbs: Lemongrass
By Jesse Cannone, CFT, CPRS, MFT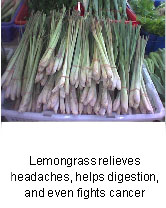 Lemongrass, noted for its use in Thai cooking, is both a delicious citrusy herb and a remarkable natural healer. In traditional medicine, lemongrass is commonly used to treat fever, flu and headaches as well as aid digestion.
Headache and Migraine Relief
Lemongrass has long been used for headache relief. Now it's proven to be at least as effective as aspirin – only safer – as reported in Evidence-based Complementary and Alternative Medicine. A five-year study of lemongrass plants used in Aboriginal Australian traditional medicine found it has a compound which acts similar to aspirin for treating headaches and migraines.
According to Dr. Darren Grice from the Institute for Glycomics at Griffith University in Australia, where the study took place, "Headaches and migraines cause abnormal activities in our bodies, such as altering our serotonin levels and interfering with the normal function of our blood platelets."
Dangerous blood clots caused by this abnormal clumping of platelets can starve the brain of oxygen and lead to strokes. Eugenol, the compound found in lemongrass, helps prevent this excess clumping of blood platelets.
Just prior to migraines, high levels of serotonin cause blood vessels in the brain to contract, lowering the pain threshold. Then during the migraine itself, serotonin levels drop, causing blood vessels to expand – leading to the throbbing pain migraine sufferers frequently experience. Eugenol helps normalize the release of serotonin and may help prevent migraines from starting.
Health and Digestive Aid
Drinking lemongrass tea or eating foods prepared with the herb promotes digestion and provides relief from flatulence. It also helps the body eliminate toxic substances including cleansing of the kidney, pancreas, liver and bladder.
Lemongrass has natural antimicrobial properties, helping the body fight off bacterial, fungal and viral infections. As an antipyretic, lemongrass helps reduce fevers from colds and flu. That's how lemongrass also became known as fever grass.
One common home remedy from India mixes a few fresh strands of lemongrass with two or three cloves, a cinnamon stick and turmeric powder which is boiled in milk, drained, and drunk to provide cough and cold relief after it cools. Thailand's popular Tom Yum Kung soup is a delicious dish also thought to help fight cold and flu thanks to its use of lemongrass as a central ingredient.
As an antifungal, the essential oil from lemongrass can help treat athlete's foot. Rubbing it on the skin is thought to increase blood flow to the area and is used to improve circulation. For this reason it has even been recommended as a treatment for sciatica, lower back pain and arthritis. Another common reason to rub it on is for a natural insect repellent. You're probably already familiar with this use of the herb's oil by its common name, citronella.
Lemongrass Fights Cancer
New research has found even more impressive benefits from the plant. Perhaps most exciting to date is a report from researchers at Ben Gurion University in Israel who discovered during in vitro testing that the compound citral found in lemongrass actually causes cancer cells to self-destruct – without harming healthy cells – at a concentration found in a common cup of lemongrass tea.
The results have been promising enough that even conventional doctors are starting to recommend their cancer patients drink several mugs of hot lemongrass tea on days they receive radiation and chemotherapy treatments. Now there's a step in the right direction for a change.
Lemongrass can be found in most well stocked grocery stores either fresh or frozen. Indian or other Asian markets are another good place to look. Or, simply grow your own. While lemongrass is a perennial which thrives in tropical climates, it can be grown as an annual in cooler climates.
Simple Lemongrass and Citrus Poached Salmon
Prep Time: 10 Minutes
Cook Time: 10 Minutes
Serves 4
Ingredients
1 pound salmon fillet
1 ½ cups chicken stock
1 ½ cups orange juice
3/4 cup white wine
1/4 small yellow onion, chopped
2 ½ teaspoons minced garlic
3/4 cup chopped lemon grass
1/2 teaspoon salt
1/2 teaspoon white pepper
Directions
Remove skin from salmon, then cut into desired portions.
In a large pot, combine chicken stock, orange juice, white wine, onion, garlic and lemon grass. Season with salt and white pepper. Bring to a boil for 5 minutes.
Reduce heat to a low boil. Place the salmon in the poaching liquid until flaky and tender, about 5 minutes.
Serve and enjoy!
References
Rashid, S. Native lemon grass fights headaches like aspirin. Griffith News. 2010 Mar 2.
Dudai N, et al. Citral is a new inducer of caspase-3 in tumor cell lines. Planta medica. 2005 May;71(5):484-8
Sommer, A. Fresh lemon grass fields in Israel become mecca for cancer patients. ISRAEL21c. 2006 Apr 2.
Sue Chao, et al. Inhibition of methicillin-resistant Stapphulococcus aureus (MRSA) by essential oils. Flavour and Fragrance Journal. 2008; 23:444-449
Inouye S, et al. Combined effect of heat, essential oils and salt on fungicidal activity against Trichophyton mentagrophytes in a foot bath. Nippon Ishinkin Gakkai Zasshi. 2007;48(1):27-36.